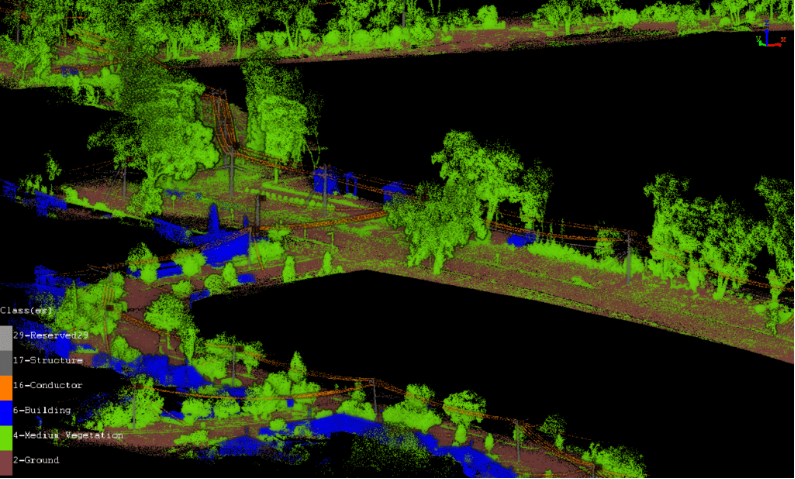 What Is Mobile LiDAR Scanning System?
A mobile lidar scanning system is a technique that captures highly comprehensive and precise 3D data of the surroundings using laser-based remote sensing. It can be carried by people with backpack or handheld method, and it can also be attached to vehicle, such as a car or ute, and goes along a predetermined path while scanning the surroundings. LiBackpack DGC50 & LiMobile are mobile LiDAR scanner for backpack and vehicle-mounted applications respectively.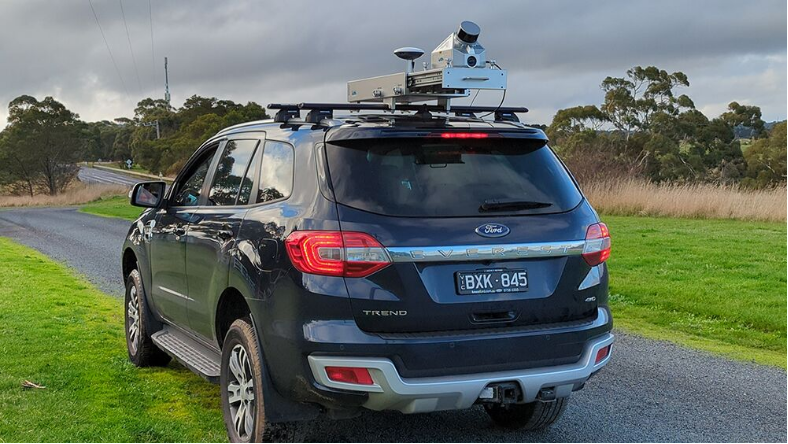 LiMobile
A laser scanner, a GPS receiver, and an inertial measurement unit (IMU) are common components of mobile lidar scanning systems. The laser scanner sends out laser beams that bounce off the surrounding surroundings and are detected by the scanner. The GPS receiver supplies location data to the system, while the IMU detects the system's rotation and movement, allowing for accurate placement and alignment of the laser scanner data.
The laser scanner records millions of data points as the vehicle goes along the set path, resulting in a highly comprehensive and precise 3D point cloud of the surrounding area. This data may be used to generate exact 3D models of structures, topography, and vegetation, making it a vital tool for mapping, urban planning, and infrastructure construction.
Large-scale projects, such as transportation network design and utility line mapping, benefit greatly from mobile lidar scanning equipment. They provide a quick and effective method of collecting extremely accurate data across broad regions, reducing the need for employees to work in hazardous or difficult-to-reach areas. Furthermore, they can provide data in near-real time, allowing for faster decision-making and shorter project timelines.
Overall, mobile lidar scanning devices are an effective means of collecting very accurate and comprehensive 3D data over broad areas. As technology advances, it is expected that mobile lidar scanning devices will become more common in a variety of sectors and applications.


What Are The Advantages Of Mobile LiDAR Scanning System
Mobile LiDAR scanning, including backpack lidar scanners and mobile-mounted lidar scanners, is becoming increasingly significant in powerline distribution modelling for design and reconnection operations. These scanning technologies provide several advantages in terms of efficiency, EHS, and lowering resident disruptions.
For starters, Mobile LiDAR scanners can capture precise three-dimensional data of topography, structures, and vegetation, allowing the production of very realistic powerline models. This considerably enhances design productivity while also minimising the need for manual measurements, which may be time-consuming and costly.
Second, by eliminating the need for flying drones over substations, residential area, and crowd streets, mobile LiDAR scanning can help to reduce associated EHS risks for aerial LiDAR scanning. This not only lessens the chance of drone crashing into the assets, but also privacy concerns from the residents.
Finally, by reducing the need for road closures and restricting access, LiDAR scanners can help reduce disturbances to residents. This is especially critical in residential areas, where traditional total station laser scanning can create more disruptions and inconvenience to people and traffic.
Aside from these advantages, LiDAR scanning can be used to identify potential hazards or obstacles that may jeopardise the safety and reliability of powerlines. LiDAR scanning can assist power companies in optimising powerline routes by anticipating potential obstacles and hazards. This can help to reduce the need for costly and time-consuming rework and repairs, lowering downtime and enhancing power grid reliability. By providing detailed information on the vegetation and terrain surrounding powerlines, LiDAR scanning can improve the accuracy of environmental impact assessments. This can assist power businesses in identifying and mitigating potential environmental issues, hence lowering their influence on local ecosystems. For example, by using LiPowerline LiDAR point cloud post-processing software, we are able to identify the dangerous points of vegetation to powerline, and plan the vegetation trimming operation accordingly, furthermore, it can also forecast the vegetation growing and estimate the powerline & vegetation clearing in future years.
Furthermore, the use of mobile-mounted LiDAR scanners can be especially effective for large-scale projects involving transmission lines. These scanners may be put on vehicles and collect data quickly across large distances. This can considerably enhance design efficiency and eliminate the requirement for personnel to operate in hazardous or difficult-to-reach regions.
Overall, terrestrial LiDAR scanning, including backpack lidar scanners and mobile-mounted lidar scanners, is changing how power companies approach distribution powerline modelling for design and reconnection operations. LiDAR scanning has become a crucial tool for power companies trying to construct and manage safe, dependable, and sustainable power systems by enhancing efficiency, decreasing EHS risks, minimising disturbances to residents, and improving the accuracy of powerline modelling.


Project Examples
Utility Line Modelling - Bendigo & Lorne With DGC50 - Backpack LiDAR Scanner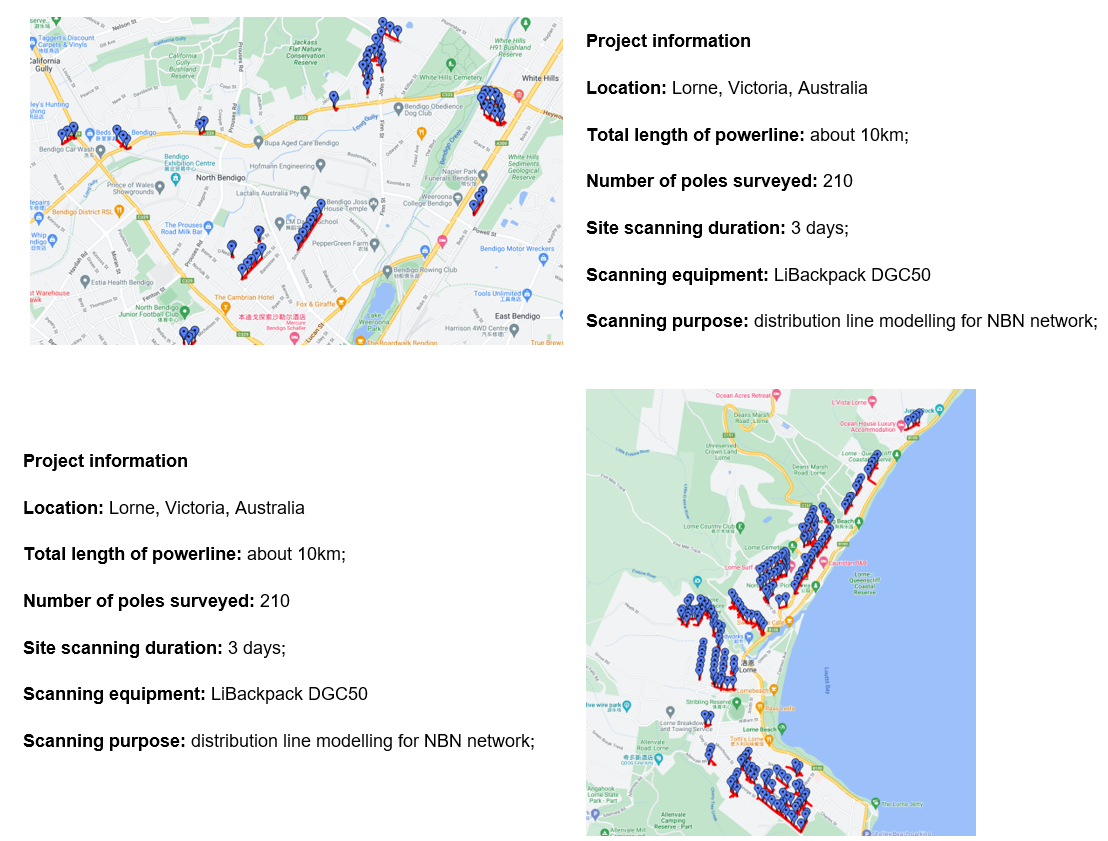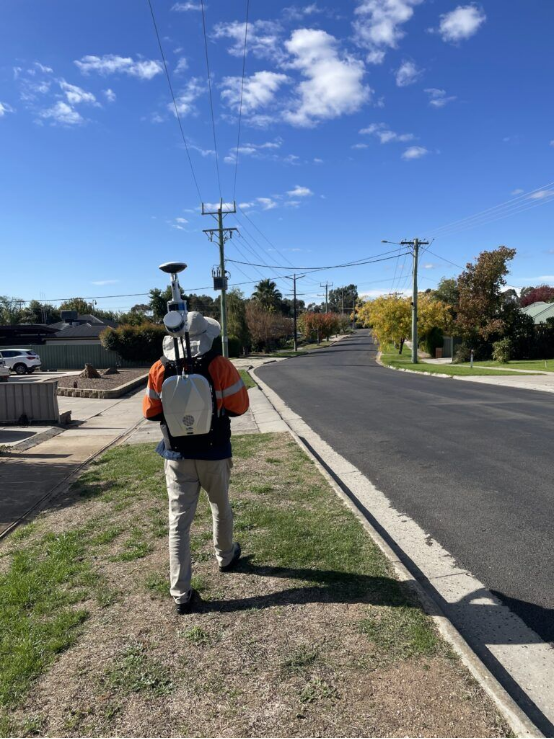 Site Scanning with LiBackpack DGC50

LiDAR Solutions conducted the site scanning with DGC50 for designated routes and poles, and LiDAR Solutions also delivered the classified LiDAR point cloud data, including classes for ground points, vegetation, building, pole structure, conductor and communication service line. This allows our client to input this data into Neara for further design and assessment for installation NBN along the exsiting assets.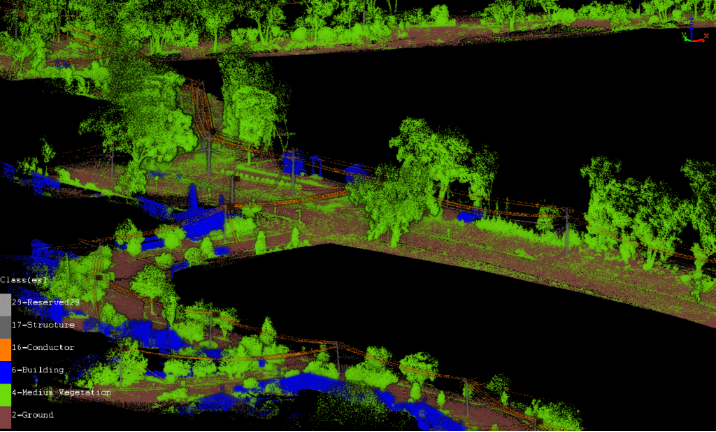 Classified Point Cloud

Powerline Encrochment Assessment - Flemington With LiMobile Vehicle-Mounted LiDAR Scanner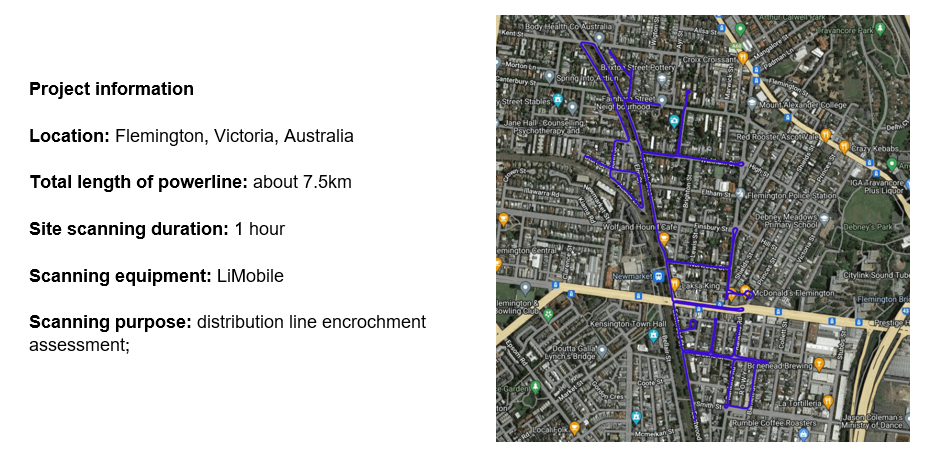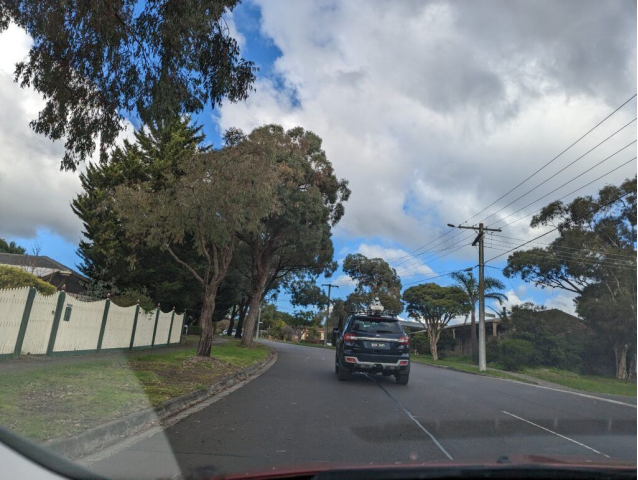 Vehicle-mounted LiDAR Scanner for Utility Line Scanning On site

LiDAR Solutions conducted the site scanning with LiMobile encrochment assessment. Within 1 hour scanning time, we are able to collect more than 7km LiDAR data of Powerline, and with post processing of LiPowerline, we are able to generate an encrochment report, including the information:
Address;
Coordinates;
Dangerous point type, vegetation or building;
Horizontal, vertical and ground clearance;
The photos of dangerous points.
With this information, the powerline maintenance team is able to plan and execute site trimming operations to keep the powerlines safe. The screenshots of the report: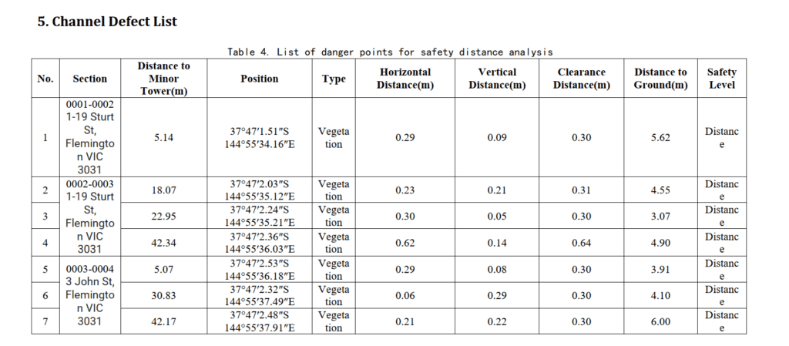 Dangerous points list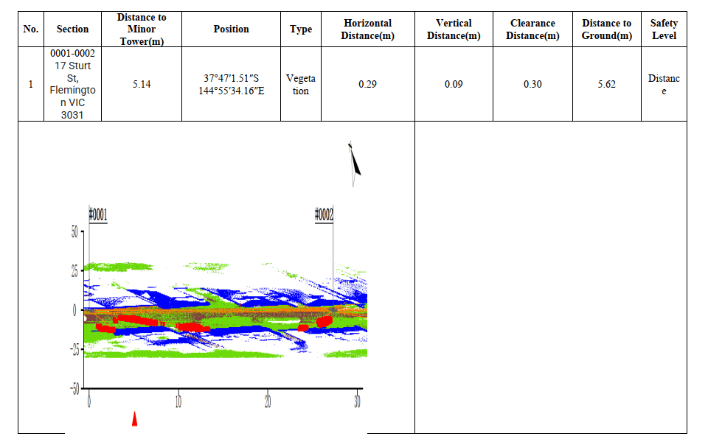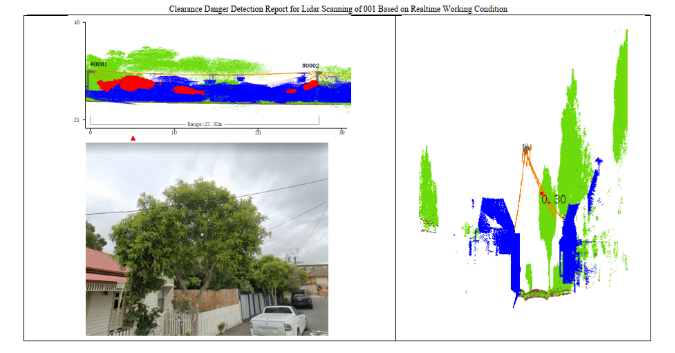 Details for each dangerous point
This article is reproduced from:
"How did mobile LiDAR scanning speed up and improve the powerline 3D model creation and encrochment assessment?"