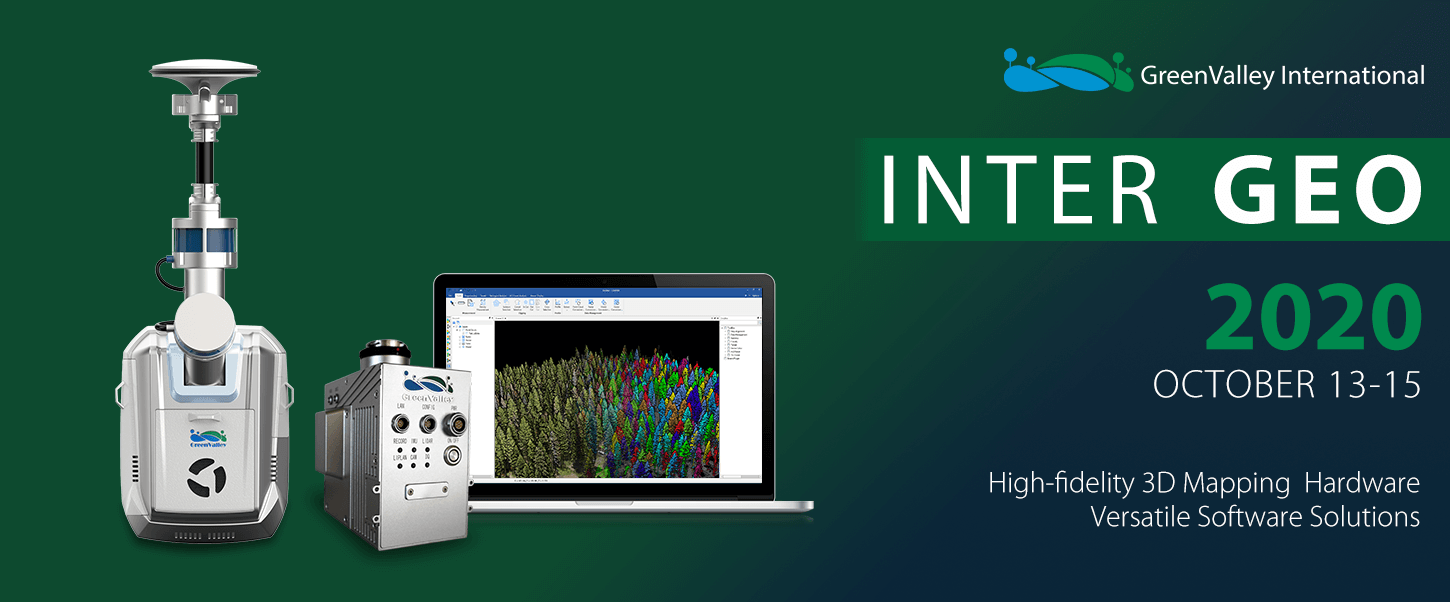 (October 16, 2020) GreenValley International (GVI) exhibited its newest 3D mapping and surveying solutions at the 2020 DIGITAL INTERGEO conference. The virtual component of this year's INTERGEO ran from October 13th to the 15th and was run in parallel with a live event held in Berlin, Germany. Excellent efforts made by the organizers and attendees to leverage internet technologies in the production of this year's INTERGEO helped to alleviate challenges surrounding global travel restrictions during the COVID-19 pandemic while allowing GVI to connect with customers, partners, and other vendors from all over the world.
Highlights from the event included new GVI product and feature announcements. The newest, light weight UAV-LiDAR solution, the LiAir V70, was on full-display. This best-in-class integrated system features a LiVOX AVIA sensor and offers a wider FOV than the LiAir V model, which has been available since Q4 of 2019. On the software side, GVI was able to use screensharing during video conferencing session to walk attendees through specific workflows in LiDAR360 V 4.1, LiPowerline V 2.4, LiMapper V 4.0. Researchers, teachers, and students were very pleased to learn that they can now receive a one-year license to LiDAR360 for just $49.99, if purchased between now and the end of 2020.
GVI also used this year's INTERGEO event to speak to target customers and partners about its emerging Geospatial Data Processing Services division. Customers will be able to rely on GVI's LiCloud to process raw LiDAR and/or imagery data captured from systems included in our catalog of LiAir, LiBackpack, and LiMobile platforms. GVI's cloud-based post-processing services will stand out from competing offerings on the market today in their ability to efficiently generate customized deliverables, ones that meet user/project requirements, on-demand, and for an affordable price. GVI has already proven its ability to develop semi- and fully-automated, vertical solutions that target the needs of LiDAR and remote sensing data consumers in vegetation management, asset inspection, forestry, mining, geology, as well as topographic survey industries. GVI now intends to bring these field-tested, real-world verified tools and workflows into the hands of the greater LiDAR and remote sensing user-community.
For more information on any of the products, promotion, or services exhibited at this year's INTERGEO please contact info@greenvalleyintl.com.